Today, my wife and I took our daughter out to somewhere she really LOVES. Kelvingrove Art Gallery & Museum. If you live in Glasgow, this is an excellent place to visit with your little ones! Little M loves coming here because it's really big and has loads of places to run around!
She particularly enjoys the dinosaur exhibit. It's rigged up to a couple of motion sensors, so when you get close, it roars and his head moves around. Not quite Jurassic Park, but when you're 2, it's close enough. There are loads of things at Kelvingrove for little kids and big kids alike. There's even stuff for grownups too. Today, for example, like every Sunday at Kelvingrove, there's an organ recital. There are chairs set up in the main atrium, but if you're like Little M, you don't want to give a solid commitment to any one seat, so we went upstairs and watched from there. The sound fills the entire building, and she was totally entranced. For a little while, at least.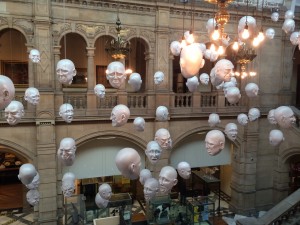 We left the recital and moved around the museum a bit more. I remember going as a kid, and in the 80s, 'interactive' wasn't really a word they used in Glasgow's museums. It's a lot better these days with touchscreens and projected videos. You can also crawl under some exhibits, but as it always was, you can never touch an exhibit. I'm not surprised, because with up to 1,000,000 visitors to Kelvingrove Art Gallery & Museum every year, they would start to look a bit tatty.
Getting there is very easy. There's a bus stop right outside. Kelvinhall & Partick Subway stations & Partick train station are also only around 10 minutes walk away. If you want to park, be prepared to do a few laps of the car park before you find a space. It can be incredibly busy, but parking is cheap at only £1 for 4 hours.
All of Glasgow's museums are free to visit, but given that I no longer live within the Glasgow City Boundary and don't contribute to their council tax, I always stick a couple of quid in one of the donation boxes. If you're coming from outside Glasgow, I suggest you do too.
It's a great day out and there's something there for the whole family.