This weekend was supposed to be packed full of fun. Activities such as visiting a Lego exhibition and a trip to the transport museum, but unfortunately, Little M has a dose of Hand, Foot and Mouth Disease (HFMD). Not to be confused with Foot & Mouth Disease which can only be found in livestock, HFMD is a rather unpleasant viral infection most commonly found in under-10s.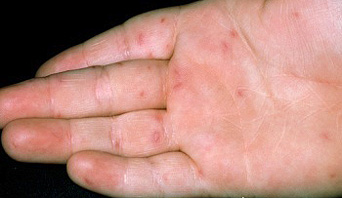 Thankfully, Little M is only showing signs of a rash with a couple of blisters and one mouth ulcer so far, but we're only into day 2 (HMFD can run for 7 days or more). It's rare for adults to catch HFMD, but for kids it's extremely infectious, so we're avoiding taking her anywhere where kids are likely to be. Unfortunately this means all the fun places I'd planned to go will need to wait until another day.
What activities do you do with your kids when they're feeling under the weather? Let me know in the comments below.